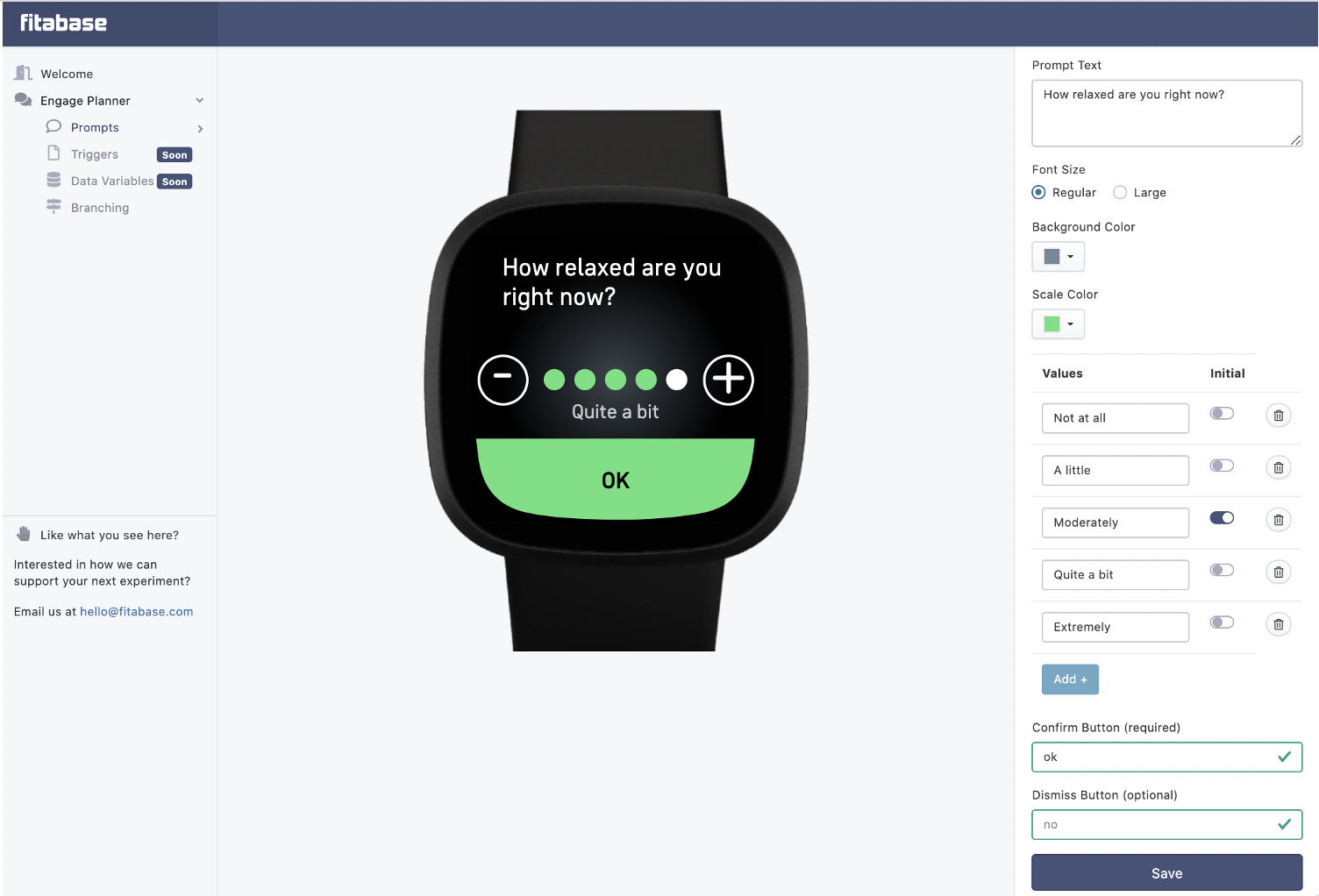 We are happy to announce that starting today, we've begun our rollout of new capabilities to support messaging to research participants via text messaging and smartwatches. The first iteration of Fitabase Engage, which we're calling the Fitabase Engage Planner, has been activated for existing Fitabase users and is available for potential customers to trial, as well. You can access Engage from the main dashboard you see when you log into Fitabase. 
We see this first release to act as a planning tool for your team as you're putting together grant proposals, or just exploring what can be done on a small screen. You'll be able to create different prompts from templates we've developed with the input of friends and colleagues in the research community. You can personalize these prompts, organize them into groups and take screenshots of what you come up with to share with your team. 
Fitabase Engage sits on top of our core data management platform and will ultimately allow you to also schedule study questions and messages, then trigger on-wrist or SMS messages influenced by data captured via Fitbit devices. We'll be rolling out additional capabilities throughout the spring and summer. This new functionality is an answer to requests we've heard over the years for seamless tools to connect with participants in near real-time while generating rich participant-generated quantitative datasets. Fitabase Engage's end-to-end messaging and direct sensor integration avoids the issues with existing solutions that often require multiple devices, delayed dynamic content, and complicated logistics to tie participant input to data and actionable messaging.
This rollout is a turning point for us and coincides with another exciting milestone: as of the start of this year, we've supported more than 1,000 research projects since our founding in 2012. 
In that time, we've provided researchers at major universities, pharmaceutical companies and major patient care innovation groups the tools they need to capture data from wearable devices such as Fitbit, Garmin, and recently from Dexcom CGMs. As an early pioneer in the space, we're happy to have became the defacto research platform able to bridge the needs of researchers by working to extract high resolution metrics from consumer devices. 
"I've seen firsthand how much hard work and dedication it takes to get one study off the ground and completed," said Aaron Coleman, our founder and CEO. "To play a role in the success of any study is humbling but to have essentially been an extension of 1,000 different teams is extraordinary. We are so proud of the work we've done to support researchers that are doing incredible things. We see them as part of our team and we hope that feeling is mutual."
To try out the Fitabase Engage planner or ask about using Fitabase for a future project, get in touch with us at hello@fitabase.com! We can't wait to hear from you.