WE KNOW DATA. WE BREATHE RESEARCH
Put our years of research and wearable data experience to work.
Not sure what device you need?
Let us help you figure out the best device for your study.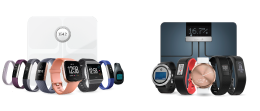 Fitabase Research Library
Not sure where to start your literature review for wearables in research? We've got you covered. Our team has been following the space for nearly a decade and has compiled all the relevant work you need to get up to speed.
Fitabase Knowledge Base Categories:
Upcoming Events
Associated Professional Sleep Societies Annual Meeting 2023

American College of Sports Medicine Annual Meeting 2023