It should come as no surprise that here at Fitabase we're big believers in the ability of consumer wearable devices to help power the next generation of health research. Of course, we're not alone in that regard. Many researchers, institutions, and even funding agencies are exploring how to utilize devices that have broad consumer appeal. To better understand just how many people are exploring using wearable tools, we took some time to explore one of our favorite databases: ClinicalTrials.gov.
As the leading data management platform for integrating Fitbit devices for researchers and healthcare organizations, we decided to focus our exploration on how Fitbit devices are being used in clinical trials. Surprise surprise, turns out they're quite popular!
We were able to find 132 clinical trials, encompassing a total of 4,510 participants, that mentioned using a Fitbit device as part of the protocol for a clinical trial. While it wasn't very popular in 2011, or in 2012, more and more trials mention using a Fitbit over the last five years. Of the 132 clinical trials we found, 34 have been completed, 16 are active, 61 are currently recruiting, and 21 are not yet recruiting. Take a peek at the charts below to see how many trials are exploring using Fitbit as method of measuring and engaging with participant's health.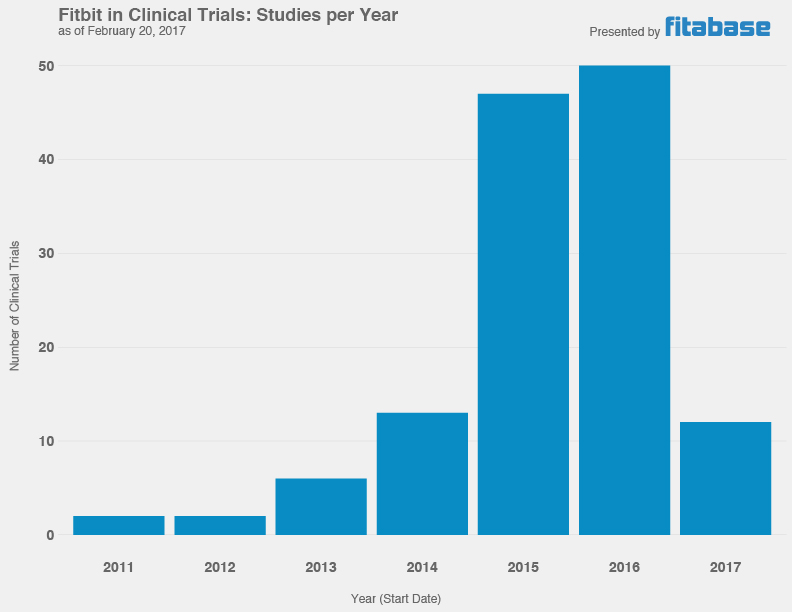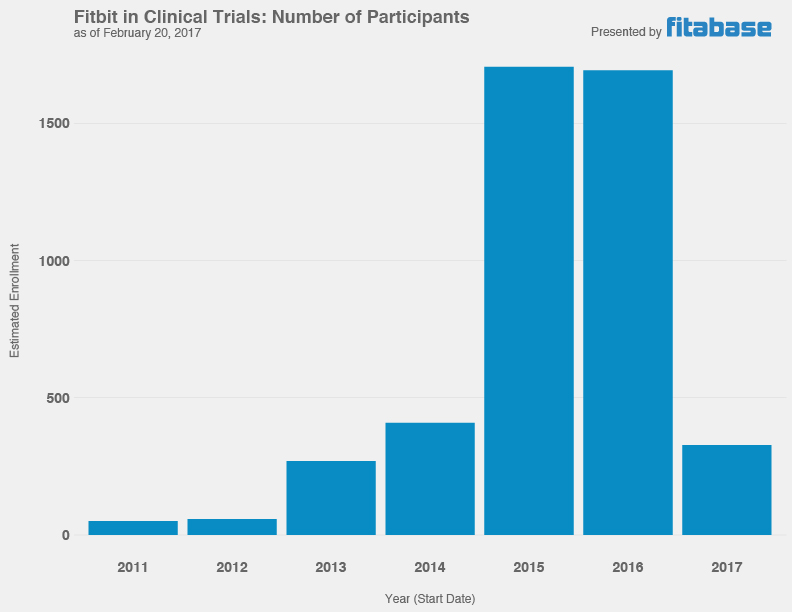 The clinical trials we found exhibited a range of ideas, protocols, and health data. From measuring physical activity through steps, to exploring heart rate and sleep, many of these trials are taking advantage of Fitbit's unique ability to provide detailed insight into the daily behaviors of research participants. And the topics are just as diverse. As expected, there are trials related to obesity, weight management, and physical activity promotion, but there are also a number of studies that are using Fitbit devices as part of trials exploring mental health, sedentary time during pregnancy, cardiac rehabilitation, arthritis, and many other topics.
If you want to dive into more information about clinical trials using Fitbit devices, just follow this link.
We're excited to be supporting many of the researchers and institutions conducting these forward-thinking studies. If you're interested in learning more about how Fitabase can help you access and manage wearable data during clinical trials say hello.