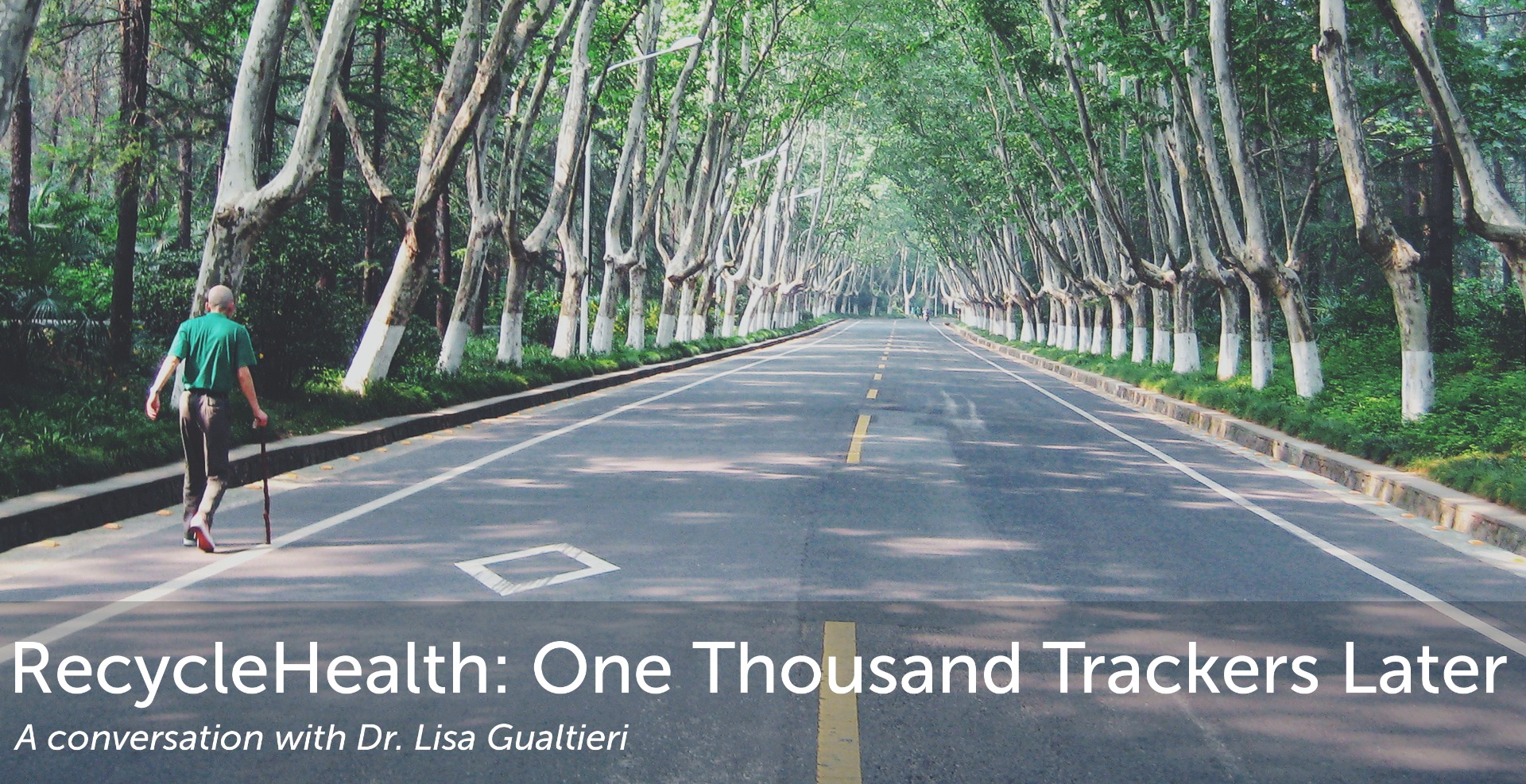 It was another late night for Dr. Lisa Gualtieri in the spring of 2015. Late nights aren't that uncommon when you're juggling a strong research program, and teaching courses to knowledge thirsty graduate students at a highly rated school such as Tufts University School of Medicine. While preparing a lecture for her mobile health design course, which I can assume was thorough, thought provoking, and insightful, Dr. Gualtieri had an idea. At that point in time the world was flush with just released market research reports that told an interesting story about wearable activity trackers, a topic in her course. These reports indicated that while many people were purchasing wearables, some were no longer wearing them. The data provoked a thought that has transformed Dr. Gualtieri's work, and over the past two years, has provided hundreds of individuals the opportunity to understand and improve their health.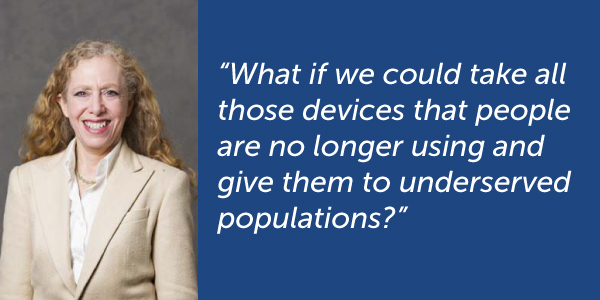 This was the idea that sparked the creation of the now two-year old non-profit, RecycleHealth. With in-person, mail-in, and corporate donations totalling over 1000 devices, the last two years of RecycleHealth has been a resounding success. I spoke with Dr. Gualtieri last week, and what follows is our conversation, which has been edited for clarity.
Tell me a little more about how RecycleHealth got started.
Lisa: I had this idea late one night and I immediately jumped right in. Within a few days I gave it a name, had set up a Facebook Page, and talked to Tufts about how to set it up as a non-profit. Next we set up postage paid labels that people were able to download from our website to make it easy for people to send in donations. From there it snowballed, especially after we received positive press from the Boston Globe. Social media has worked really well for us too.
Is that how most people are finding you?
Yes, getting the word out through press and social media has been great for elevating our visibility. This past holiday season we were in an article in USA Today. After that ran we were getting many more packages, in fact, we exceeded our budget for providing postage paid labels. But, you know what's great? We're still receiving devices every week even though people pay the shipping costs themselves. Also, more companies are donating new devices to us.  
We have noticed that there's an organic nature to this. People will read an articles and then spread the word. Every now and then we'll see a mention of us pop up on the Fitbit Community message boards when someone is asking about what to do with an old device. A search for "recycle Fitbit" will lead to us too.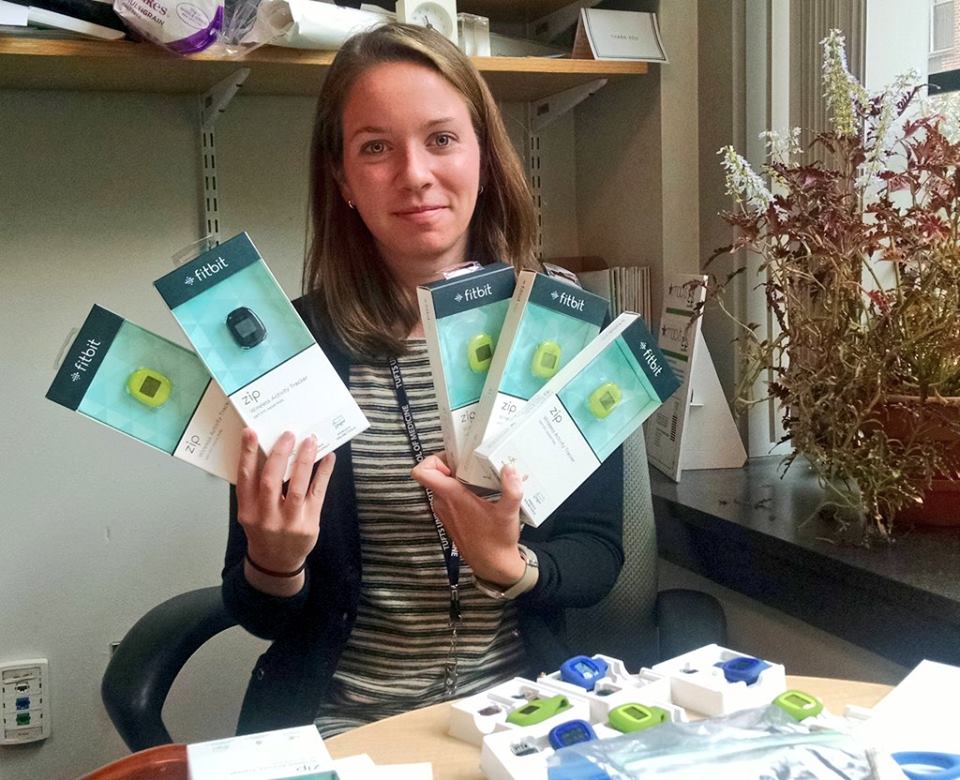 On the RecycleHealth website it says you "provide refurbished wearables to underserved populations to help improve their health and fitness." Can you tell me a little more about how it works?
It's important for us to work with the underserved. Older adults, racial/ethnic minorities, and those with lower household incomes are overly burdened by chronic diseases. As a researcher in the School of Medicine at Tufts, I coordinate research studies that work with these populations. We published a pilot study with a community partner who we provided with trackers. We found that they were beneficial for improving clinical outcomes and were associated with improved confidence in the study population of mainly older adults with chronic conditions. We are partnering with other organizations to help them use activity trackers as part of their own health improvement programs
What are some examples of the programs RecycleHealth has supported?
We have a number of ongoing and in-process partnerships. I can give you a few examples.
Our newest partnership is with Huts for Vets. They provide a wilderness therapy program for veterans. We're working with them to provide trackers to veterans in their summer program. We're also working with local senior centers as well as faith communities in areas of Boston that tend be lower income areas.
It seems like this is not about giving away free devices, but also conducting important research. What specifically are you interested in from a research standpoint?
That's a great question. Overall we have four main research questions:
What are the barriers to selecting, setting up, and using a tracker?

Is it helpful to know your baseline activity level?

Does getting feedback on changes in activity lead to positive behavior change?

Do increases in activity lead to improvements in mood?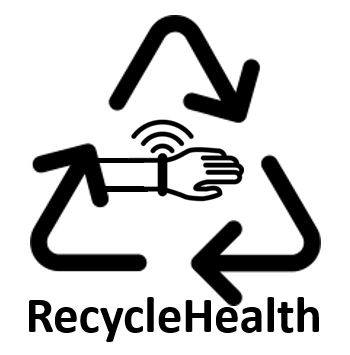 What excites me most about this work with these devices is the impact they can have. I work in the Department of Public Health and Community Medicine and one of our main focuses is on prevention. I want to understand how we can use activity trackers to increase health behaviors like exercise and, ideally, prevent chronic disease through more active daily living.
There is so much to learn from how these devices and the data they provide can help people who might never go and buy them for themselves. I do a lot of the recruiting for our research studies, and it's allowed me to better understand our target audiences' needs. For instance, older adults moving into retirement may need help developing an active lifestyle. We are exploring research questions: What are the long term health benefits for older adults who start using these devices? What social and technical support do older adults need for successful use? Can using these devices ultimately reduce healthcare costs?
What has been the most interesting or exciting thing you've experienced since starting RecycleHealth?
As a researcher, the most rewarding thing has been how excited some of the older adults in our studies have been about receiving trackers. We help them set them up and show them how to use them. I didn't expect the gratitude and that's been heartening.
The other day I was recruiting for a study and a woman told me three times what a lovely person I am, which was really nice. The same day I was opening packages mailed to RecycleHealth and someone had written a long note saying what a nice person I was for setting up RecycleHealth. Every now and then you have these small moments of joy from knowing you have helped people.


---
Make sure to visit the RecycleHealth website if you'd like to learn more, donate your old trackers, or get involved with their various research projects.  To learn more about Dr. Lisa Gualtieri and her research, you can visit her Tufts University page here.
Here at Fitabase we're big champions of researchers who incorporate wearable devices into their work in innovative ways. If you're looking to use wearables in research, we're here to help. Just say hello!