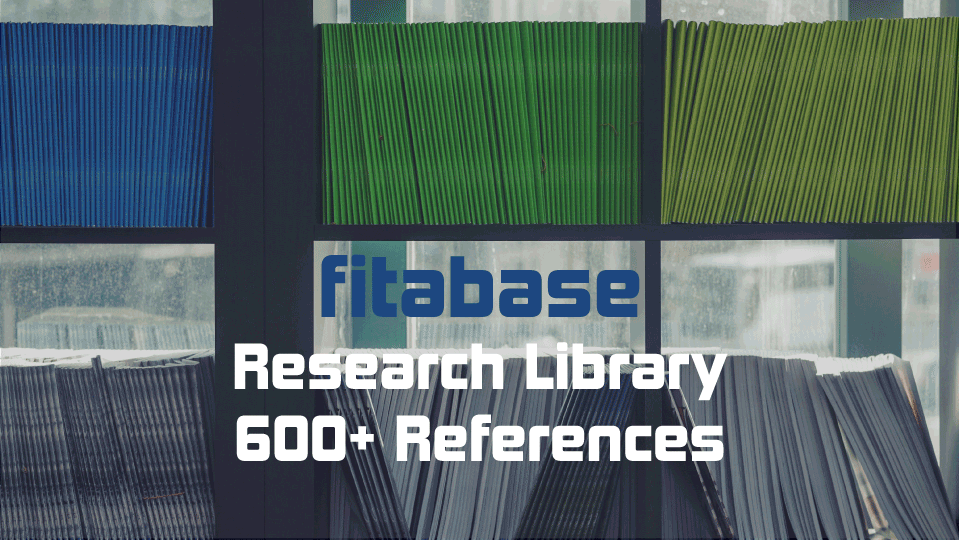 At the end of 2017 we announced that our Fitbit Research Library has surpassed 500 total references. It was a big day for us, and for the community of researchers and clinicians who are exploring how to best use wearables to understand and improve health. Fast forward to today, and after a bit of a break from regular updates, we're excited to announce that we've gone past the 600 mark!
As is our regular style, we did a bit of data gathering and cleaning to explore some details about this growing list of research studies that use Fitbit devices. 
From 2012 to today, we've been able to locate 610 different published studies that describe using one or more Fitbit devices as part of the study design. It appears that the numbers of studies that are using Fitbit devices is growing every year, with the biggest jump coming from 2015 to 2016 - an increase of 130 references. What will 2018 bring us?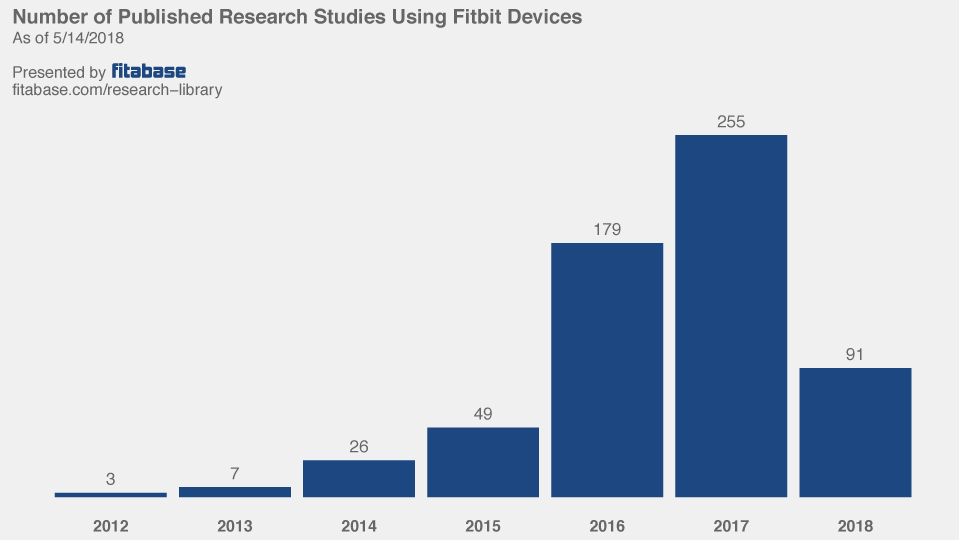 As we enter new papers into our library database we read each paper's methodology to better understand some important details, such as the device type(s) worn by participants, the type of study design, the data type(s) used in the analysis, and participant characteristics. Let's dive into that information
What Devices are Researchers Using?
Fitbit has released 16 different activity trackers (including two new smart watches) and two scales. Researchers have included nearly every one of those devices, with the exception of the recently released smart watches (Ionic and Versa) and the newest scale (Aria 2). The most popular device is the Fitbit Flex, with the One, Zip, and Charge HR following close behind. With the popularity of the Charge 2, we think we'll see more and more published studies that have used devices that include heart rate.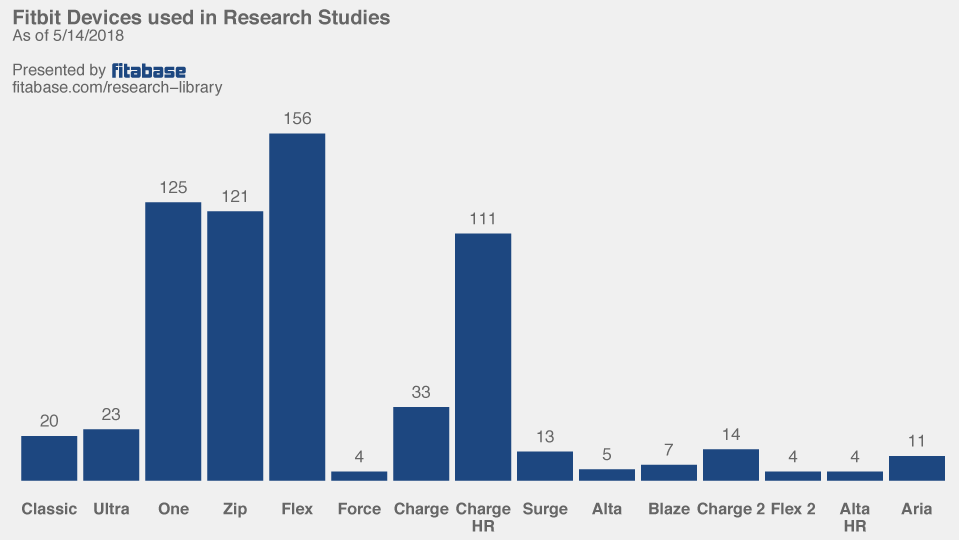 What Type of Studies are Conducted?
We also tagged each study with a description of the study design. When we first published our analysis of Fitbit research studies, we noticed that validation papers were the most common. That is still the case, but a deeper dive into the literature indicates that validation studies have progressed from just general data validity to exploring the data and behaviors these devices can ascertain in specific patient populations. Additionally, intervention studies seem to be on the rise and may overtake validation studies this year.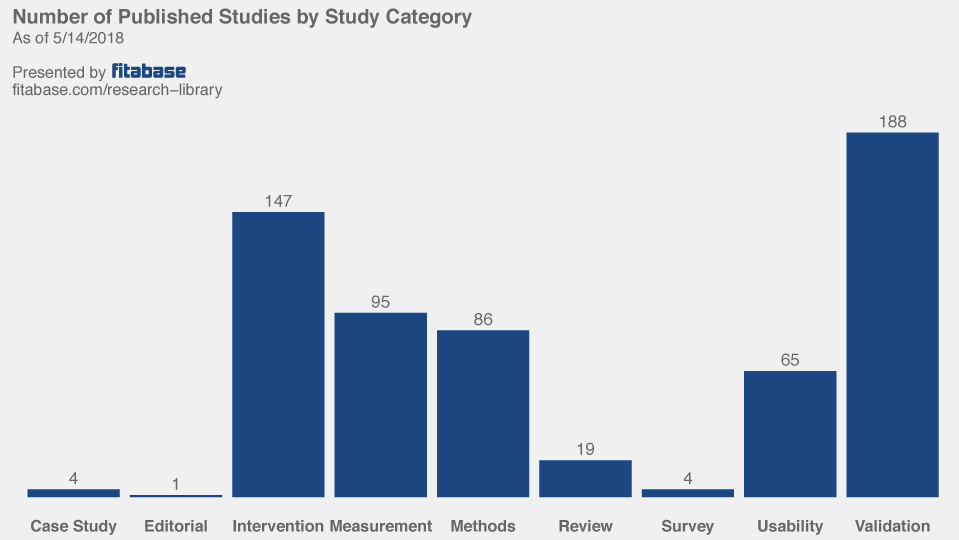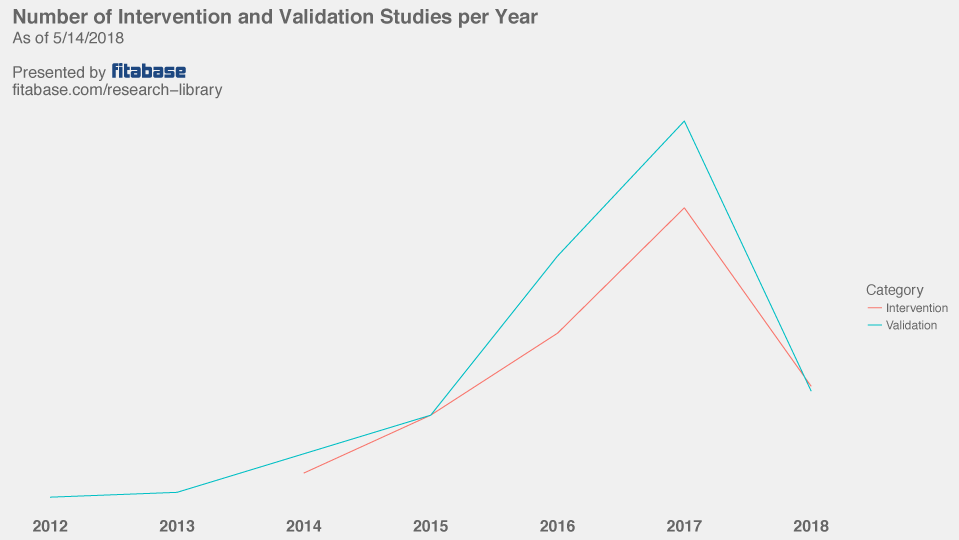 What Data are Researchers Collecting with Fitbits?
Of course we're interested in understanding what type of data researchers are using in their studies. It is probably no surprise that data about the number of steps taken is the most popular outcome metric for studies using Fitbit devices. Although steps data are included in almost 75% of all Fitbit studies, that doesn't meant it's the only type of data researchers explore. As mentioned above, heart rate devices are becoming more popular, as are devices that automatically track sleep. We're seeing those data types being used more and more across a variety of studies.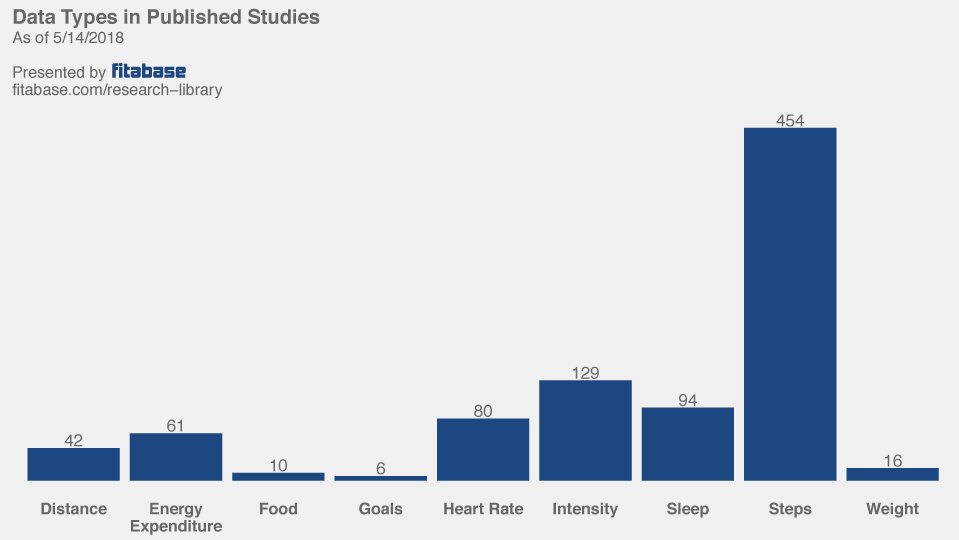 What Type of Participants are Involved in Fitbit Studies?
We also tagged each study with information about the participants that were recruited to participate in these studies. We labeled each study with one of four different general population categories based on age: children, adolescents, adults, and older adults. We also used a "patients" tag for studies that used the Fitbit to track activity and/or sleep behaviors within a specific patient group such as cancer survivors, individuals with diabetes, asthma, or COPD, for example.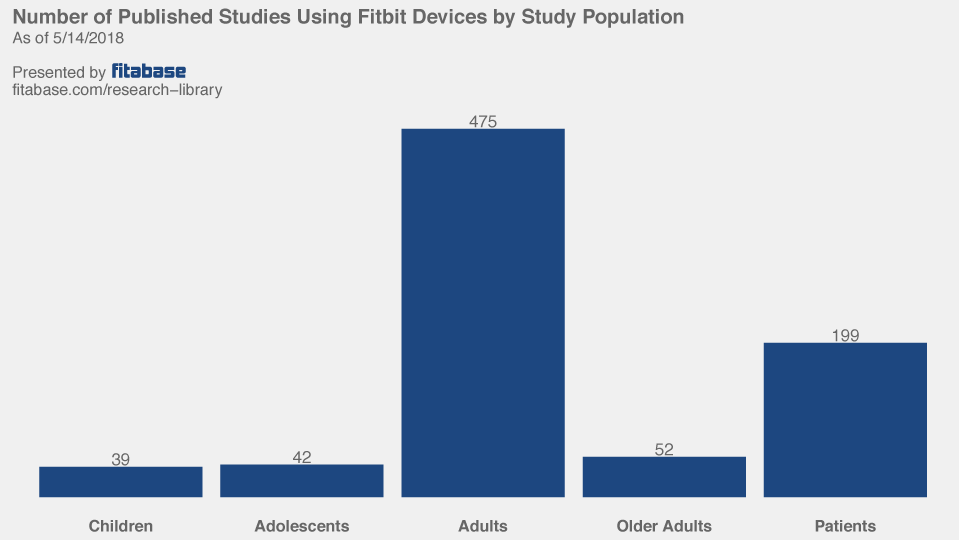 We're looking forward to continued updates to the library so make sure to visit back here on the blog and on our Research Library page often!