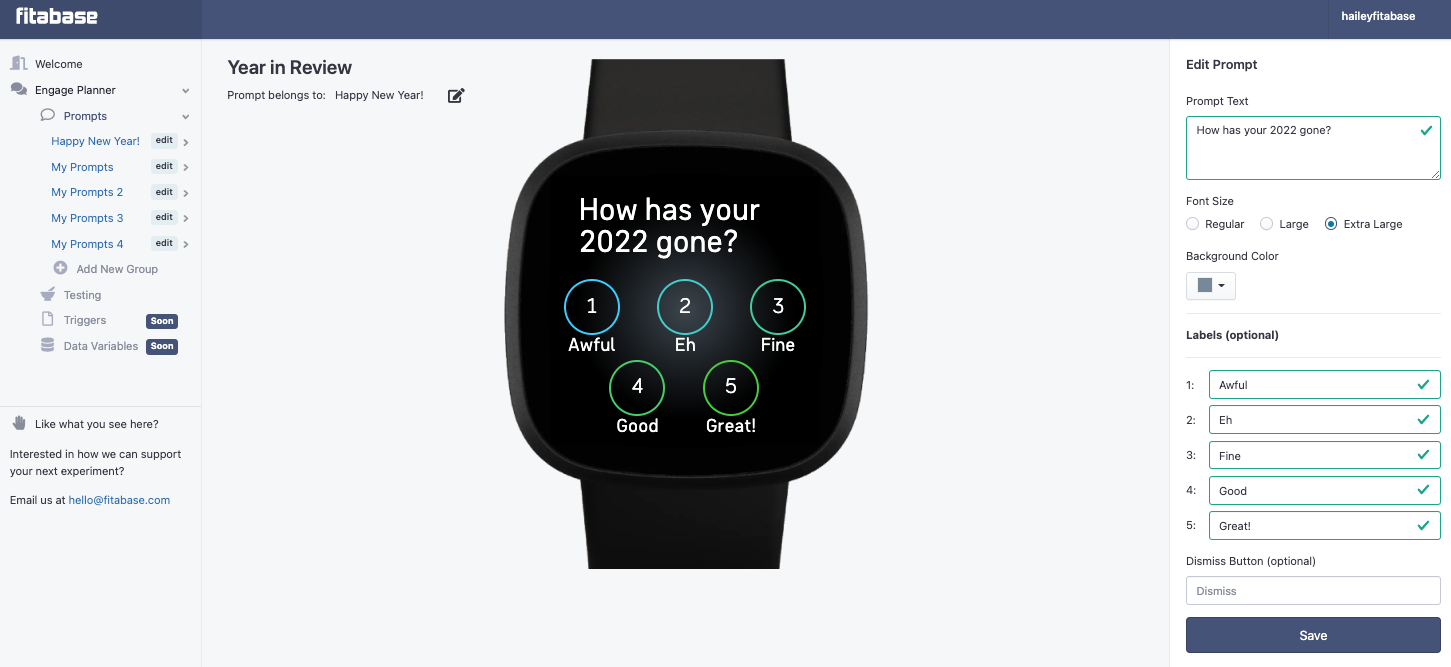 2022 for Fitabase was a year of iteration. We pushed numerous updates and changes that touched most corners of our platform, from Fitabase Engage, to additional security measures, to new datasets.
We're proud of the work we've done in these realms, and have loved hearing your feedback and thoughtful ideas throughout the year as we've set them live. We have a lot of exciting things in store for 2023, and can't wait to hear your thoughts on them. For now, here's a quick list of 2022 highlights: 
5-point prompt template: We added a new prompt type to our Fitabase Engage Planner, bringing us to six templates for you to use for on-wrist surveys! This prompt, seen above, was created in partnership with a group for which we did some custom development. They needed an at-a-glance way to answer a question with five options, and this was where we landed. It's now available for everyone with a Fitabase account to check it out and test it on their own Versa 3 or Sense devices.

Two-factor authentication: Data security is extremely important to us at Fitabase. While we keep all our systems under strict lock-and-key, you may want to add a layer of security on your side with two-factor authentication. For more on why you might want to turn this on, and how to do so, visit our knowledge base! 

New datasets: In case you missed it, we rolled out several exciting new data sets, as well as created some new export options. Not all data sets are available for every device. For specific details, visit our device comparison chart.: 
Core temperature and skin temperature 

Breathing rate

SpO2

Heart Rate Variability

Wear time (Garmin only) 
For more information on how to get things set up and take advantage of these new features, please visit our Knowledge Base. As always, if you have questions about Fitabase or are interested in a trial of the platform, please reach out to us at hello@fitabase.com.