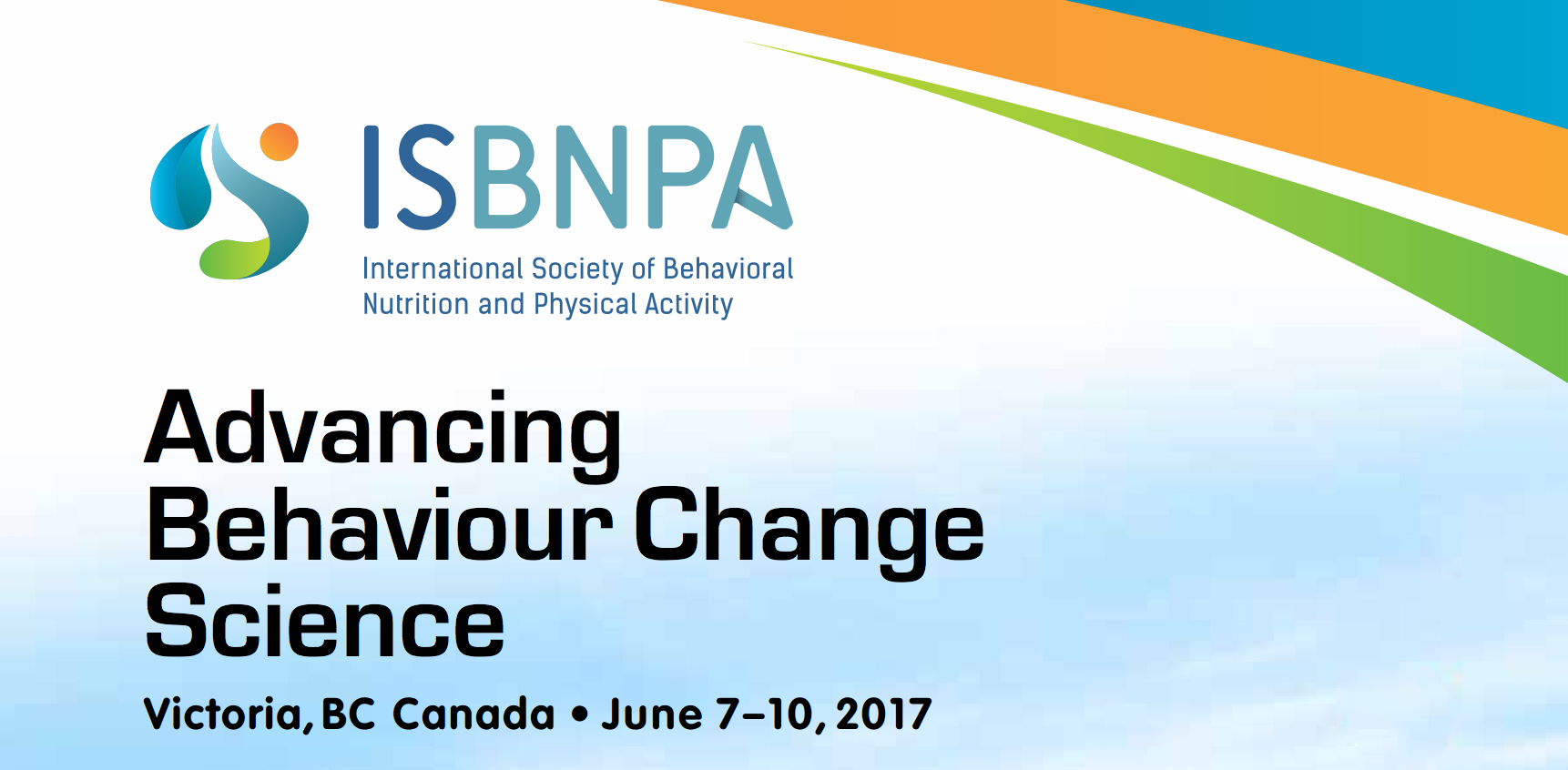 Summer conference season continues! Fitabase will be exhibiting at the International Society of Behavioral Nutrition and Physical Activity (ISBNPA) Annual Meeting in Victoria, BC this week. We're looking forward to being a part of this great event. We'll be exhibiting the Fitabase platform and helping researchers realize the full potential of using consumer-friendly wearable devices in innovative research trials. If you're using wearables in your research, or are interested in exploring how to take advantage of these next-generation activity tracking tools, come see us at Booth #7. 
We've also read through the program and preliminary abstract book in order to find relevant sessions, presentations, and posters. If you're interested in using Fitbit devices, or other consumer wearables in research we suggest adding these sessions and presentations to your schedule. 
Thursday
Symposium S.03: Incentivising healthy eating, physical activity and reduced sitting: Advancing understanding of appeal, acceptability, and costs (Convenor: Prof. Megan Teychenne)
8:30 AM ‑ 9:45 AM | Room: Oak 1 & 2
Presentations
S.03.2: Process and economic evaluation of an incentive-based study to increase physical activity and reduce sitting among middle-aged adults (Maple JL, Teychenne M, Moodie M, Ball K)
Symposium S.04: Using consumer activity trackers in research – latest evidence regarding validity, feasibility and efficacy for supporting behaviour change (Convenor: Dr. Carol Maher)
8:30 AM ‑ 9:45 AM | Room: Lecture Theatre
Presentations
S.04.1: Consumer activity trackers: Validity and users' perceptions and experiences (Maher CA, Ryan J, Ambrosi CC, Edney S)
S.04.2: Using consumer activity and weight devices in the design of a theory-based mHealth tools for weight loss maintenance: The NoHoW toolkit (Marques MM, Palmeira AL, Encantado JE, Teixeira PJ, Duarte C, Palmeira L, Ermes M, Harjumaa M, Horgan G, Sniehotta FF, Stubbs RJ, Heitmann BL)
S.04.3: The effect of Fitbit usage on body size and physical activity among obese sedentary women in rural Montana and New York (Seguin R, Graham M, Donoso R, Folta S, Paul L, Kenkel D, Strogatz D)
Poster Presentations
11:00 AM ‑ 12:20 PM | Room: Salon A
P1.02.14: The use of objective physical activity data routinely collected by smartphones in large cohort studies (Mueller-Riemenschneider F, Tan Wei Lin L, Van Dam R)
P1.03.28: Psychological facets of the 'quantified self ': Exploring the relationship between emotional responses to activity trackers and personality characteristics (Ryan J, Edney S, Maher C)
P1.03.38: Demographic and behavioral correlates of consumer physical activity tracker use among a population-based sample of adults (Macridis S, Johnston N, Johnson S, Vallance J)
P1.04.4: The challenges of using commercial wearable physical activity trackers for intervention and assessment in behavioral health research: Tales from four studies (McGrievy M, Jake-Schoffman D, Singletary C, Wright T, Crimarco A, Wirth M, Shivappa N, Mandes T, West D, Drenowatz C, Hester A, Turner-Mcgrievy G)
Meet the Sponsors: Fitabase
1:00 PM‑ 2:00 PM | Room: Pre-Function 1A and 2A
Meet with Dr. Ernesto Ramirez, our Director of R&D to learn more about how you can use wearables devices and the Fitabase platform to conduct innovative research with wearable devices.
Oral Presentation O.01: Measurement of physical activity, sedentary behavior and diet
3:15PM ‑ 4:30 PM | Room: Salon B
Presentations
O.01.5: Using consumer-level activity monitors to measure physical activity in healthy older adults (Farina N, Lowry R)
Oral Presentation O.02: Physical activity & sedentary behavior in young people from various populations
3:14PM ‑ 4:30 PM | Room: Colwood 1 & 2
Presentations
O.02.3: Selection and influence effects of youngsters social network on physical activity (Van Woudenberg T, Burk W, Bevelander K, Buijs L, Smit C, Buijzen M)
Friday
Poster Presentations
11:00 AM ‑ 12:20 PM | Room: Salon A
P2.03.4: The utility of a commercial activity tracker to promote physical activity in children and youth with congenital heart disease (Voss C, Dean PH, De Souza AM, Harris KC)
P2.03.24: Parent-led group sessions improved healthy eating, screen time and child quality of life in a low-income primary care clinic (Copeland K, Brown C, Teli R, Piotrowski M, Sucharew H, Percy Z, Smith L, Bolling C, Siegel R)
Oral Presentation O.20: Measurement and analysis of physical activity and sedentary behavior
5:00 PM ‑ 16:15 PM | Lecture Theatre
Presentations
O.20.1: Brief history of step counting and cadence tracking (Tudor-Locke C )
Saturday
Poster Presentations
11:00 AM ‑ 12:20 PM | Room: Salon A
3.03.7: Triangulating physical activity in a community-based trial utilizing accelerometers, Fitbits, and self-report (Seguin RA, Graham ML, Donoso R, Sriram U, Lo B)
We're excited to learn from these amazing researchers at ISBNPA 2017. If you're attending and want to get in touch, just reach out here or visit us at Booth #7!