Fitbit devices must sync with their associated online Fitbit account in order to make data available through Fitabase. There are two ways to sync Fitbit devices:
Fitbit Mobile App
The Fitbit Mobile App is available for iOS, Android, and Windows Phone
We recommend checking device compatibility in order to make sure your mobile device is able to support the Fitbit App and sync with Fitbit devices: https://www.fitbit.com/devices
The Fitbit App will communicate with the Fitbit device via Bluetooth Low Energy (BLE). It is important that the mobile device keep bluetooth turned on during data collection periods.
For the most robust data collection, we recommend making sure the "All-Day Sync" option is turned on. Using All Day Sync will enable the mobile application to periodically sync with the Fitbit device when it is in range and connected to the mobile device. This can be as often as every 15min.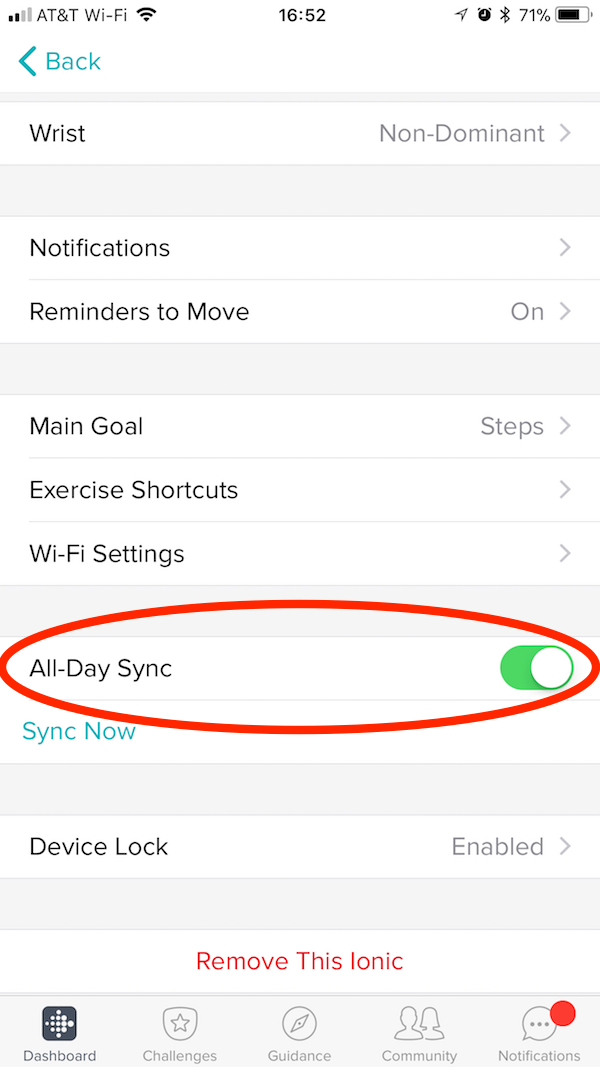 Setting up All-Day Sync
Open the Fitbit Mobile App
Click on the icon of the Fitbit device in the upper left hand corner
Scroll down the device settings page
Make sure All-Day Sync is toggled on. 
Tip:
You can also force a device to sync by opening the Mobile App, touching the device image at the top of the screen and pulling down to refresh and sync.
Fitbit Connect
An alternative to using the Fitbit Mobile App is to use the Fitbit Connect software for desktop and laptop computers.
In order to sync a Fitbit device, the computer must have an internet connect, and Fitbit connect installed. Some computers will also need a Fitbit Bluetooth Dongle in order to sync with a Fitbit device. Newer computers running Windows 10 or newer Mac computers have native BLE support and do not need a dongle.
When devices are within range of a computer running Fitbit Connect they will automatically sync data every 15-30 minutes. To force a device sync when using Fitbit Connect, click on the Fitbit Connect application and choose "Sync Now"
If you are using the Fitbit Connect application to sync device data the device must not be paired with a mobile device. 
Tip:
It is not necessary to log in to Fitbit Connect, or enter any Fitbit account information in order to sync devices.
More information about device syncing can be found here: http://help.fitbit.com/articles/en_US/Help_article/1877/
Fitbit Dongles
If you are in need of Fitbit dongles, please contact the Fitbit research support team.
If you are unsure if your participants' computers or your computers need a Fitbit dongle please consult the following page: http://help.fitbit.com/articles/en_US/Help_article/1116/